Prepositions
Objectives
Why study prepositions?
In English, prepositions are frequently used to relate a noun or pronoun to another word or phrase in a sentence. They can establish different relationships: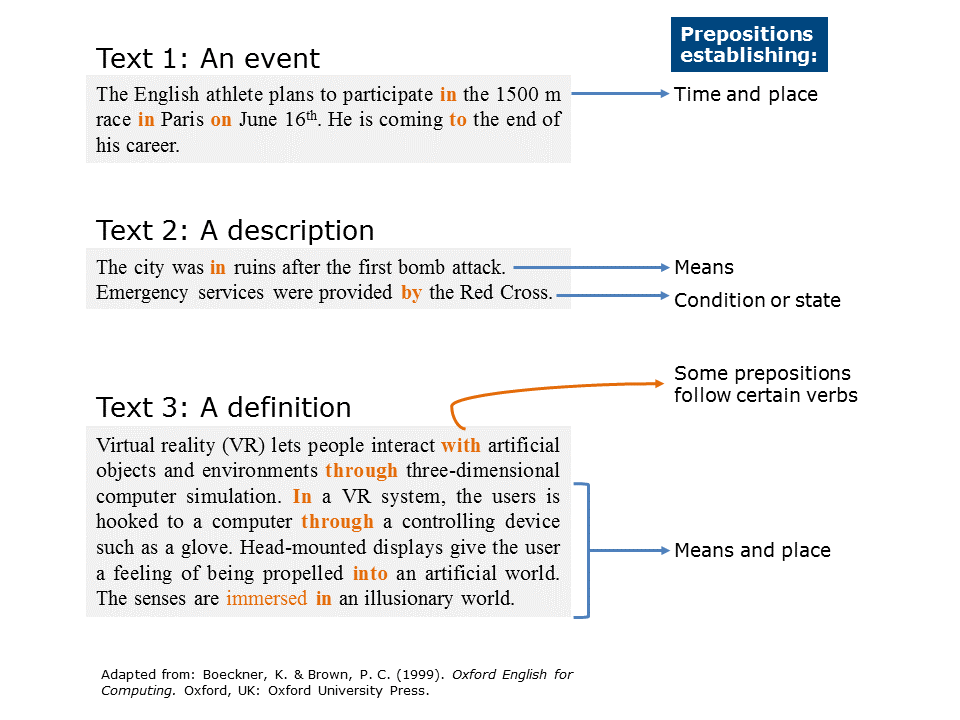 Why are prepositions problematic?
Prepositions are problematic because:
over 90% of preposition use involves these nine prepositions: at, on, in, to, of, from, for, with, by. The same preposition is used to express a number of relationships as shown in the texts above, or even the same relationship e.g. in the morning, at noon, on Monday morning (prepositions of time).
some can be used interchangeably e.g. He sat in the chair; He sat on the chair.

they combine with verbs to create phrasal verbs eg. put off, look after, look down, look up.
they combine with other words to form prepositional phrases, e.g. with regard to, in regard to, as regards, regardless of, on account of, according to, in spite of, in terms of.
Review
How to study prepositions

The most efficient method is to read prepositional phrases aloud until you can automatically produce them correctly. Also, pay attention to how they are used in academic contexts in your discipline, but there are some guiding principles. The dictionary (especially an Advanced Learner's edition) is an excellent resource, giving information about their common and idiomatic uses.
Sometimes, visualising prepositions can help to clarify the relationships they express:

Visual representations may also help you to use the correct preposition after a verb or noun, e.g.
contribute to the success; is related to
connect something to something; connect with other people

drive through the tunnel; walk across the field
have an impact on; to focus on; on the surface
to go into a room; to jump off the building

The same preposition may express different relationships, as the following classification chart shows: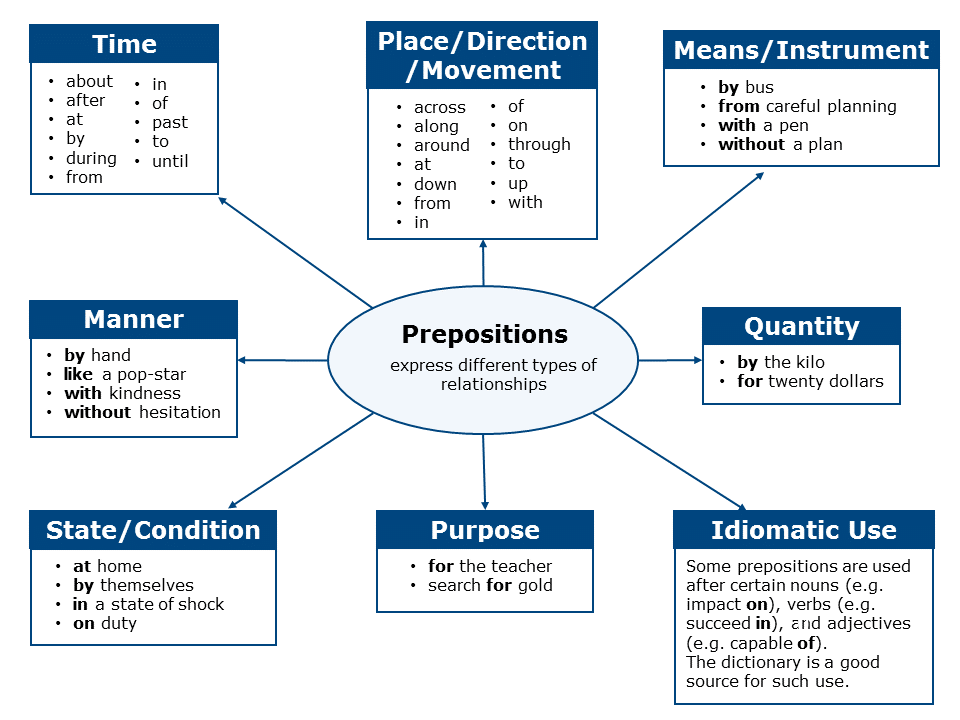 The opening sentences of U.S. President Obama's inaugural address contain 8 prepositions (about 15% of the text), which express these various relationships: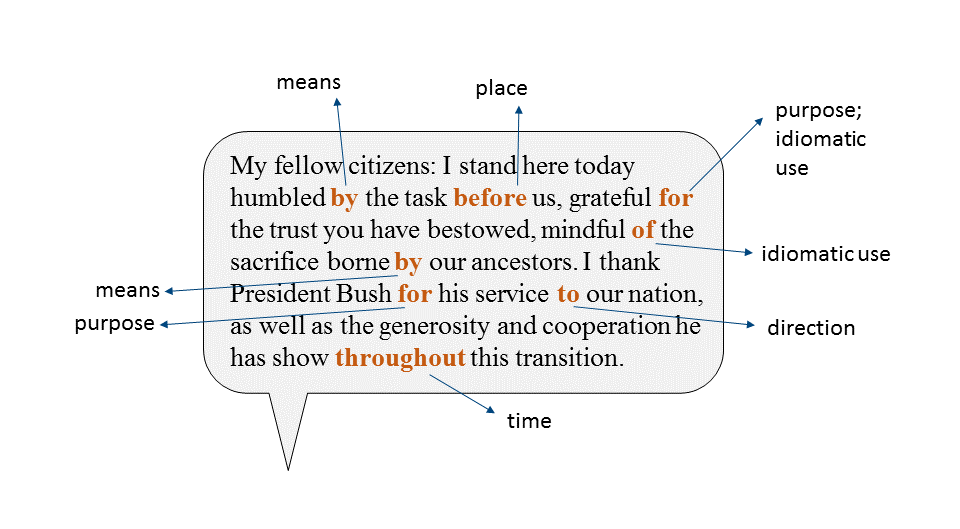 Measure/Quantity

Time

Idiomatic use

Manner

Purpose

Place

State/Condition

Means/instrument

Drag the correct classifications from the left to complete the sentences below.

1. The city is in a state of shock.


2. He won the award for his innovation.


3. He sold his car for $7,000 less than his asking price.


4. University students accounted for 20% of the votes.


5. She greeted her guests with great courtesy.


6. Riverton is situated on the banks of the Muse River.


7. He wrote his essay by hand.


8. The essay is due in the second week of the semester.
Practice
Some visual representations: at, in, on, into and of pose special problems because they can describe more than one relationship: time, place, purpose and idiomatic use in different contexts. You may find these visual representations of some common prepositions useful:

'of' is common in expressions like 'the description of the process; the difficulties of learning a foreign language; the heart of the matter. In these contexts, the relationship between the noun before and after 'of' may be viewed as one of 'possession' or 'belonging'.
Use these simple representations to help you do the following practice exercises:
Special Problems
Idiomatic use of prepositions
This refers to prepositions that commonly occur with certain adjectives, verbs or nouns. For example, we say 'impact on; focus on; contribute to; to be in danger, have confidence in yourself, look into a problem; good at Maths, look at a word, and so on.
Click for a a list of such collocations
Check in a dictionary often.
in health consumers' conditions
for their nursing actions
under the direction of a registered nurse
with the activities of daily living
for directing and delegating interventions
with the consumer, family and multi-disciplinary teams
1 Enrolled nurses practise
.
2 Enrolled nurses assist health consumers
.
3 Enrolled nurses observe changes
.
4 The registered nurse is responsible
.
5 Enrolled nurses are accountable
.
6 They work in partnership
.
Challenge Tasks
Wrong prepositions and corrections in bold:
A [1] arriving in New Zealand
B [3] Between 1996 and 1998,..
C [4] impact on New Zealand
E [6] increase in tourist numbers
G [9] information in Table 4
H [10] In this present era
I [11] from Friday to Sunday
J [12] instrument of teaching
Edit page