Verb Tenses
Time and Tense
In English, tense is used to show the relationship between the form of a verb and the time of the event or action described by that verb.
Tense and time are not the same thing. Time (consisting of past, present and future) is a concept; tense is a grammatical category. You can recognise tense by the changes that happen to the base form of a verb. The changes relate to the status of the action expressed by that verb.
Study the verb form changes of the base verb 'write' as the status and time of the action changes: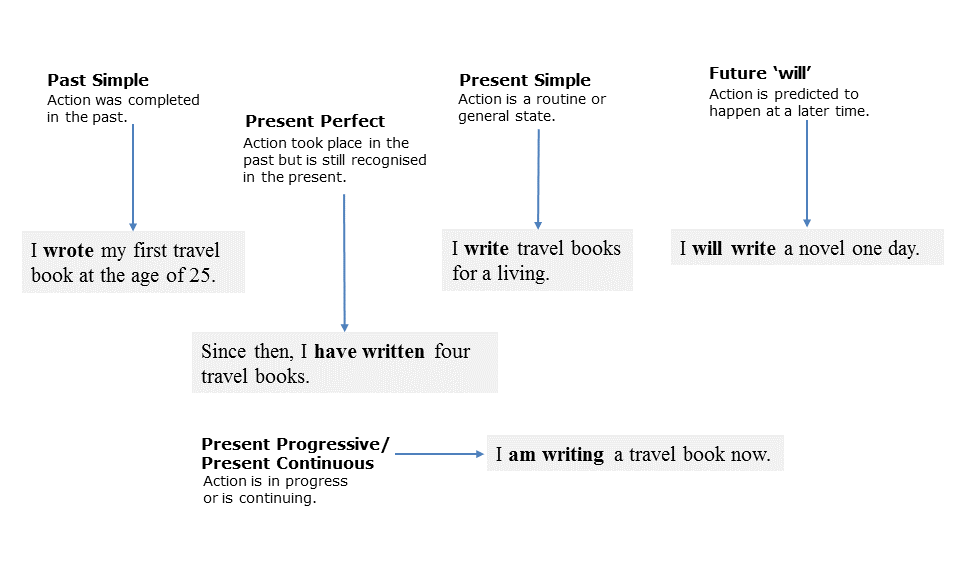 There is no future tense-ending in English because there are many ways of talking about the future:
When talking about fixed/scheduled events, it is possible to use the

Present Simple

:
e.g According to the brochure, we stay in Rome for five days and then fly to Athens.
When talking about a planned future event or decision, it is possible to use

Present Progressive
e.g I am getting married in September.
e.g. I am going to get married in September.
When talking about a certain future ('pure' future), it is possible to use

will/shall + base form:
e.g I will be 21 next week.
When making a prediction, it is possible to use will/shall + be + V+ing:
e.g. By this time next week, I will be standing at the top of Mount Aspiring.
Main problems:
1 handling tense shifts competently
2 distinguishing between the simple (past simple and present simple) and perfect (past perfect and present perfect) forms
3 distinguishing between the simple and progressive (-ing) forms.
Tense Shifts
In academic texts and academic writing, it is quite normal to see MORE THAN ONE VERB TENSE used. For example, you may be discussing the development of ideas, concepts or issues over a period of time - beginning with a review of past issues (past simple), the changes since then (present perfect) and closing with recommendations for the future.
Study the tense shifts in the following text:
[1] Mauritania, on the west coast of Africa, has an interior with a large deposit of iron ore, nomads, oases, hundreds of thousands of date palms, and an awful lot of Sahara sand. [2] Water, a scarce commodity, is the key to power. [3] The injection of a modern water pump technology in the sixties has served to widen the gap between rich and poor date palm farmers.
[4] At Atar oasis in 1965 there were about 10,000 date palm plantations. [5] Most were in good shape with compara­tively short trees set out in regular lines. [6] For centuries, water had been raised from an underground table by the chadouf. [7] This is a long pole on a central spindle with a heavy stone as a counter­weight at one end and a water container at the other, but the chadouf cannot draw water from a depth greater than the length of the pole and rope combined.
[8] A succession of drought years in the sixties saw the water table at Atar drop from four metres below the surface in 1960 to 20 metres. [9] Only those plantations served by water pumps have survived.
Modified from: Hamp-Lyons, L. & Heasley, B. (1987). Study writing: A course in written English for academic and professional purposes. Cambridge, UK: Cambridge University Press. p 61.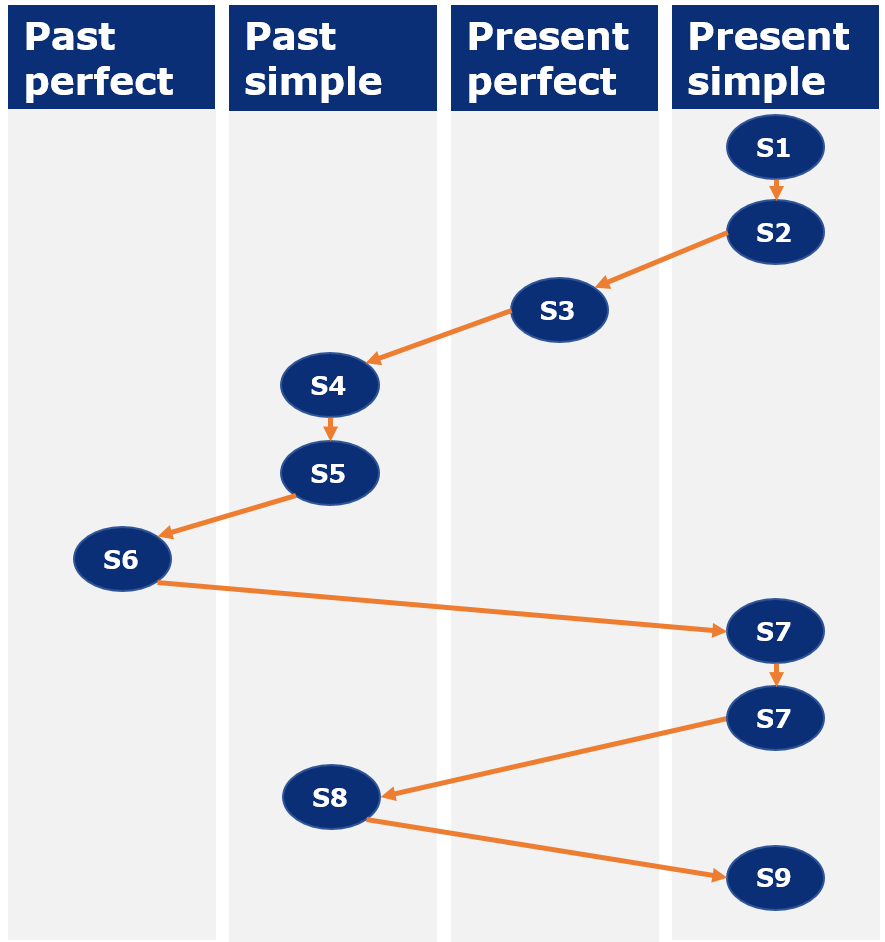 Here is an example of inconsistent and uncertain tense use. Read this section of a student's text discussing the effects of the atomic bombing of Hiroshima and Nagasaki:
... According to Misuru Cuba, a well-known Japanese historian, approximately 14,000 people out of 350,000 died in Hiroshima. Also in Nagasaki, 70,000 people were killed. Some people died from the effects of the radiation. Although there are people who never get killed, many of them suffered from the war. For example, they have lost their eyesight, arms and legs. There were also many women who cannot get pregnant any more. Although some women get pregnant, the babies die before they can be born, or they will have missing limbs. Even now many babies are born with no arms or legs. It is clear that the atomic bomb gave a hard time to people even now, physically and emotionally...
Can you find the faulty tense shifts?
According to Mitsuru Cuba, a well-known Japanese historian, approximately 14,000 people out of 350,000 people died in Hiroshima. Aslo in Nagasaki, 70,000 people were killed. Some people died from the effects of the radiation. Although there were people who never got killed, many of them suffered from the war. For example, they lost their eyesight, arms, and legs. There were also many women who could not get pregnant. Although some women got pregnant, their babies died before they could be born. Even now, babies are being born with no arms or legs. It is clear that the atomic bomb has given the Japanese people a hard time, physically and emotionally.
Click here for an example of tense shifts in nursing reports.
Nursing report (Admissions)

[1] When Roberta Blackwood was admitted to A&E, she was sitting up, though she was a little vague and sleepy. [2] She responded to verbal commands and was able to transfer from the ambulance trolley to the casualty trolley. [3] Roberta's breath smelt of alcohol. [4] However, there were no signs that she had vomited.

[5] Roberta was accompanied in the ambulance by her aunt, Mrs Judith Smart. [6] The patient had telephoned her aunt an hour earlier telling her what she had done and asking her to take care of her baby. [7] At the time the admission form was completed, Roberta was very withdrawn and avoided looking at people.

[8] Roberta has a baby. [9] She is unskilled and unqualified and her husband works as a labourer. [10] Roberta often visits a local pub with her aunt, who is her best friend. [11] Her husband is out most evenings and when he returns, she says, he is usually drunk and often aggressive. [12] She dreads her husband coming home at night but, though he is fairly rough with her, he has not beaten her up.

[13] Roberta is very anxious about the involvement of the Social Services and worries in case they take her baby away.

Source: Grice. T. (2003). Everyday English for nursing. UK: Elsevier. (p. 49)
How much do you already know?
How well did you do?
The tense shifts in the article 'The Energy Crisis' can be represented like this: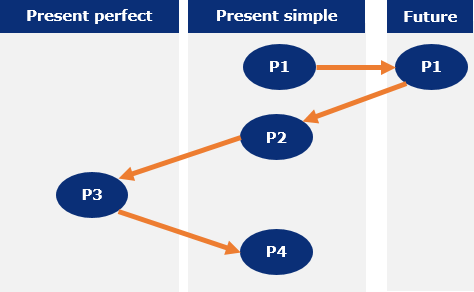 Explanation

Paragraph 1 makes a prediction about energy use and gives a warning for the future.
Paragraph 2 at the current situation.
Paragraph 3 looks back at energy use over a period of time from the past to the present.
Paragraph 4 sums up current energy consumption patterns.
The active or passive voice is used where appropriate.
If you wish, try the test again, using these general guidelines to help you.
Before you proceed to Practice, click on this link to view a Summary Chart of the English Verb Tenses. Pay particular attention to the changes in the verb forms according to tense and time, including active and passive voice forms.
Tense and Time Expressions
An experiment in corrosion in metals (Scientific text)
At university, you may be asked to write a literature review, reporting on past research and the status of current research. The following sentences form a paragraph from a literature review. Select the correct verb form to complete each sentence.
1. Research conducted in the early 1960s ___________ that environment was a major factor in the corrosion rate of steel, iron, and aluminium.

2. Smith (2002) reported that 28% of the metals in his study ____________ high incidences of corrosion.

3. Smith's data showed that iron and aluminium ____________ more dramatically to environmental changes.

4. Since the 2002 study, Smith __________ the experiment twice.

5. Recent studies __________ that maintaining stable environmental conditions will increase the life of any metal.

6. However, the exact increase in life expectancy of metals ____________ yet.

Challenge Tasks
Correct any errors of tense use in the bold verb expressions.
Cash for Clunkers
When the U.S. Congress [1] voted in June to play car dealer, some observers [2] fret that offering consumers $3,500 to $4,500 to trade in a gas guzzler for a more fuel-efficient new car [3] was not going to be generous enough to attract many takers. Cash for Clunkers (the official name is Consumer Assistance to Recycle and Save, a.k.a. CARS) [4] has customers scrambling to car dealerships in droves after it [5] had gone live on July 27. Despite being in effect for only a few days, the program [6] helped drive July auto sales to an annualized rate of 11.2 million vehicles, from just 9.7 million in June.
Americans always [7] junked cars and trucks - 14 million last year, according to R.L. Polk & Co. - but this time they [8] went scrap happy. In just over a week, the program [9] has run through most of its $1 billion in funding. The House of Representatives quickly [10] voted to allot an additional $2 billion.
Cash for Clunkers programs [11] were first instituted at the state level in the early 1990s as a way to reduce automobile emissions. In a column in the New York Time last summer, Alan Blinder, Princeton Universtiy economist and early booster of the idea, [12] suggests adapting these efforts into a national stimulus program.
These cash-for-clunkers efforts appear to be working well as an economic stimulus, although they [13] lost some of their environmental benefit. Research [14] showed that the greenest (and most equitable) plans target the oldest gas guzzlers and allow consumers to spend the money however they want.
Source: Fox, J. (2009). Cash for Clunkers. Time, 174 (6), 8.
Read the text and answer the questions about the tense use.
What I have lived for
[1] Three passions, simple but overwhelmingly strong, have governed my life: the longing for love, the search for knowledge, and unbearable pity for the suffering of mankind. These passions, like great winds, have blown me hither and thither, in a wayward course, over a great ocean of anguish, reaching to the very verge of despair.

[2] I have sought love, first, because it brings ecstasy - ecstasy so great that I would often have sacrificed all the rest of life for a few hours of this joy. I have sought it, next, because it relieves loneliness .... I have sought it finally, because in the union of love I have seen, in a mystic miniature, the prefiguring vision of the heaven that saints and poets have imagined. This is what I sought, and though it might seem too good for human life, this is what--at last--I have found.

[3] With equal passion I have sought knowledge. I have wished to understand the hearts of men. I have wished to know why the stars shine. And I have tried to apprehend the Pythagorean power by which number holds sway above the flux. A little of this, but not much, I have achieved.

[4] Love and knowledge, so far as they were possible, led upward toward the heavens. But always pity brought me back to earth. Echoes of cries of pain reverberate in my heart. Children in famine, victims tortured by oppressors, helpless old people a burden to their sons, and the whole world of loneliness, poverty, and pain make a mockery of what human life should be. I long to alleviate this evil, but I cannot, and I too suffer.

[5] This has been my life. I have found it worth living, and would gladly live it again if the chance were offered me.
Source: Russell, B. (1969). The autobiography of Bertrand Russell. London, UK: Allen & Unwin.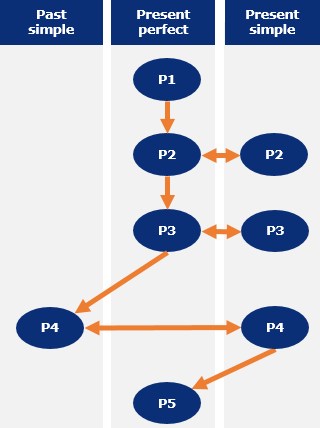 Consider the following:
• What is the predominant tense used? Why?
• Why does the writer shift to the present simple at times in paragraphs 2 and 3?
• Why are the past simple and present simple tenses used in paragraph 4?
Comments on tense shifts in the text
Bertrand Russell wrote his autobiography when he was in his eighties.
The predominant tense used is the Present Perfect because he is looking back on his life - from a time in the past to the present.
He shifts to the Present Simple at times in Paragraphs 2 and 3 when he wants to comment in general terms about the virtues of love and knowledge.
In paragraph 4, he uses the Past Simple to describe what the search for love, knowledge and pity brought him at the time. He shifts to the Present Simple after that to comment on the present state of his emotions.
He reverts to the Present Perfect in Paragraph 5 to make an overall assessment of his life thus far. The second part of the second sentence is an expression of a wish to live his life over but he uses the second conditional because it is an unreal condition - he cannot live his life over.
Edit page