Manage student activity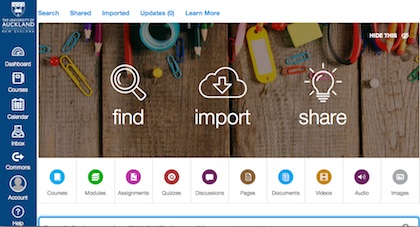 How does a Learning Management System (LMS) benefit your students?
This section will introduce you to The University of Auckland's LMS which is called Canvas. You may use it to:
Manage a fully online course


Provide on-campus students with access to learning materials and resources


Use discussion boards


Make class announcements


Create quizzes for formative and summative assessment


View and comment on reflective writing


Receive, mark and return assignments

Checks and tips: Using a learning management system [open in new window|view inline]

Example
Sanya Ram has been using Cecil (the University's previous LMS) to support her teaching on a number of courses in the School of Pharmacy.

Pharmacy Practice 409 is a course for around 90 fourth year students and is taught by several lecturers. Although the course is not fully online, Sanya found that using Cecil helped her to manage student contributions to the course and assignments. It also helped with the management of a large teaching group.

The features of the LMS that Sanya found most helpful are listed below:
Announcements - being able to communicate changes or updates with students regularly
Assignment dropbox - students are able to submit assignments to a centralized area and receive an immediate email message confirming its reception (infact Sanya takes this a step further and includes a reminder about the next task also).
Activities and marking - all marking is recorded and stored in the LMS. Sanya likes to use the comments feature here also as it means each student gets feedback with their grade and that is kept within the system. Grades and feedback can then be collated and exported to Excel for discussion at team meetings and for final grading submission.
Discussion - with a class of 90 students the ability to stream students into groups makes discussions more meaningful and manageable. Sanya also likes the ability to collate discussion posts by student so she can easily see what a particular student has contributed. They have used the ability to 'force subscription' by emailing all posts to the site and liked the momentum in discussion it seemed to create. But they found the volume of traffic rather overwhelming, so they have also run a course without it (and found there was not as much 'talk' but it was more manageable).
Linking to web resources (such as CourseBuilder sites) - on this course, each lecturer has their own website to support the module they teach. This means they are completely independent with how they want to structure their module.
Overall, Sanya has found that using the LMS to support a course creates a 'safe' environment in which students contribute a high standard of discussion and work generally. She feels students are more connected and communicate more about their learning than without it.
Canvas
What is a learning management system or LMS?
A learning management system (LMS) is a software application for the administration, documentation, tracking, reporting and delivery of electronic resources and courses.
What is Canvas?
Canvas is the University of Auckland's Learning Management System and from 2016 all taught courses (PG and UG) in the Faculty of Medical and Health Sciences will be managed through (LMS) Canvas. It replaces the previous system, Cecil.
Canvas is a cloud-based system so its tools can be used online, on mobile devices and tablets.
How can I use Canvas in my teaching?
Canvas can be used to give your students access to course materials online, for connecting your students to each other, to track their use of those materials, for assessing by quizzes and tests and grading. It can be used for face-to-face, blended or distance teaching and learning.
The list below are some of the most basic features of Canvas:
Announcements
Assignments (formal and informal tasks)
Rubrics
Marks and grades
Modular content
Discussions
Customisable web pages
File storage
Class lists and participants
Quizzes
Calendar
Real time conferencing/virtual classroom (Also called "The Big Blue Button")
Collaborations and group project work
You will be able to use a variety of tools and applications that integrate seamlessly with Canvas such as Turnitin, Coursebuilder and Piazza.
How do I get started?
To get started you'll need to arrange for access to courses you are involved with then login to Canvas, and work on the courses to which you have access.
What support is available to me?
For FMHS staff our direct contact for Canvas support is Sophie An s.an@auckland.ac.nz
But Canvas offers its own online guides which are generally the best place to start:
Canvas Guides – search the 'official' Canvas guides for any information you need.
Canvas Community – ask the global community of Canvas users a question.
For information about the implementation of Canvas at the University see - Canvas at the University of Auckland
There is also 24-hour support for Canvas
Online live chat – select 'Chat with Canvas Support' from the Help menu in Canvas
Canvas Support Hotline – call 0800 001469 from a landline or mobile to speak with a Canvas Support representative
Edit page