Evaluate and collect feedback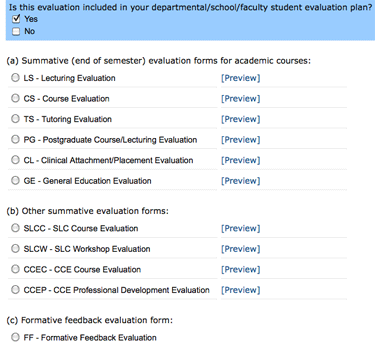 Are you interested in evaluating and reflecting on your teaching practice?
This section will introduce you to some of the ways in which you can use available web-based tools to gather feedback about your teaching:
The University of Auckland's online evaluation system


Qualtrics


CourseBuilder

Quick information: Evaluation and collecting feedback [open in new window|view inline]

Examples
Using SurveyGizmo to evaluate a workshop and teach about questionnaires
Marcus Henning from the Centre for Medical and Health Sciences Education (CMHSE) runs an annual, one-day workshop on "How to design an effective questionnaire". Marcus commented that when evaluation forms are created on an ad hoc basis, they often lack validity and reliability. So, the aim of the workshop is to give attendees information and ideas about constructing evaluation forms that are reliable and valid.
The workshop is divided into four sessions taking attendees through the major milestones of basic project management, examining the meaning of reliability and validity and culminates in a lively hands-on process of generating and writing a questionnaire and statistically analyzing the data gathered by it.
Marcus uses SurveyGizmo as the tool to create the interface for his evaluations. He finds it :

enables the quick creation of questions that gather both numeric and text-based responses,
enables anonymity if desired,
generates a url to the form which can be easily distributed and accessed by participants,
data can be exported to Excel allowing for simple statistical analysis and graphing,
data can be summarized and easily viewed at a glance,
eliminates the double handling of paper based surveys so reduces errors, and use of time and resources,
makes it very easy to send reminders to participants and enables good response rates because the form is only ever a click away from the reminder,
easily used with any group size.

(Please note since this was written, the LTU has discontinued its Survey Gizmo account because the University now provides Qualtrics as an online survey tool. To request installation of the Qualtrics survey tools, please visit the UOA software webpage ).

| | |
| --- | --- |
| Example of form made using SurveyGizmo | |
Using CourseBuilder to gather feedback

When Ralph Pinnock (Department of Paediatrics) was developing the myPaediatrics website to support the teaching and learning of the 5th year Paediatrics attachment, he used CourseBuilder to collect feedback about the design and development of the website and also to find out if interactive elements of the site were teaching as intended.

Ralph created online forms using the 'Get feedback/survey' feature in CourseBuilder to survey students at key points in the development of the site. This feedback was used to inform changes to the way information was presented on the site. Other forms were used to collect information about how well students perceived the effectiveness of some of the cases in teaching clinical reasoning. Questions for that part of the evaluation were adapted from a previously validated bank of questions available for use elsewhere.

It was incredibly easy to set up, but most importantly, the collated view feature means the data for each question is summarised and trends can be easily seen, highlighting areas that are working well or those that need review.
What are online evaluations?
An online evaluation is simply an electronic form that students can fill and submit. The form can consist of Likert scale questions, multiple choice questions and free text entry questions.
How can online evaluations help my teaching?
Online evaluations are simply another way of collecting information to add to your understanding of your teaching and help you make improvements. As part of an evaluation strategy, they can be used formatively and/or summatively.
Formative evaluation asks 'How is my teaching going?'
Summative evaluation asks 'How did my teaching go?'
If you are interested in finding out more about evaluation generally, see the 'Quick Guide' above, or take a look at the information provided on the FMHS Everything Teaching site (this site is being updated).
What support is available to me?
The University provides comprehensive guidelines on carrying out student evaluations.
The Centre for Learning and Research in Higher Education runs teaching and learning workshops which include sessions on evaluation.
The Faculty's Centre for Medical and Health Sciences Education can provide support for all aspects of teaching.
The Learning Technology Unit can support you in making purposeful use of technologies in your teaching and evaluation - contact us.
Evaluation@University of Auckland
The University's online evaluation system
This evaluation service provided by the University offers banks of questions designed to evaluate several different aspects of teaching (lecturing, course evaluations, tutoring etc). By simply selecting the questions you want you can quickly create an online evaluation for any active course in which you are involved.
How do I get started?

Go to The University of Auckland's online evaluation system and log in with your UPI and password. Once in you will find a list of evaluation types to choose from and then subsequent lists of specific evaluation questions. The system will guide you through the process once you have logged in.
CourseBuilder
One of the elements within CourseBuilder enables you to create your own web form to receive feedback from students. (Actually, the form can be designed as a feedback form, a survey or a quiz).
As the course administrator, you are able to 'view the submissions' from within CourseBuilder by clicking the 'View/manage submissions' link at the top of the form. You can view either individual submissions or all the submissions in a collated view, including graphs. You can choose to have submissions emailed to you also.

How do I get started?

You simply log into CourseBuilder (for the course you are interested in evaluating) and choose the drop-down element "Get feedback/survey/quiz" then set up the form according to the options provided. The CourseBuilder support information provides online help for setting up the forms.

| | |
| --- | --- |
| Sample of evaluation created in CourseBuilder | |
Qualtrics
Site licensing for Qualtrics survey tools (including Qualtrics Research Suite) has been purchased and is now freely available to all staff as the standard survey tool for the University.
IT Procurement conducted a review of survey tools with the other NZ Universities, who joined in the purchase of this license. According to Qualtrics, "Qualtrics Research Suite was built specifically for universities and is the leading global provider of data collection and analysis products for academic research. Qualtrics can be used for simple to complex surveys and gives you, your colleagues, and your students an all-in-one platform to capture real-time insights and make fact-based decisions."

To request installation of the Qualtrics survey tools, please visit the UOA software webpage https://www.software.auckland.ac.nz/itssoftware/sitelicensesrecordlist.php
Training for Qualtrics is available online at http://www.qualtrics.com/university/researchsuite/
If you currently use an alternative survey tool, you may wish to consider Qualtrics when your current subscription expires.
Other tools
NOTE: the LTU no longer pays for access to SurveyGizmo
Google Forms
You can access these through your upi@aucklanduni.ac.nz email account. This is a Google account, managed by the University and give you access to several Google Apps including Google Forms. Not all staff realise they have this, but (incase you don't) you access it by
going to the main University of Auckland webpage
go to Quick links
select ECmail
login with your upi@aucklanduni.ac.nz email address and your UoA password.
once in your mail account, go to the app selection in the top right of your screen, choose Google Drive then choose 'Create' and select 'Form'. They are very easy to set up.
(See more details here about Google Apps)
SurveyMonkey
SurveyMonkey enables you to create your own online surveys, without having to install software. It is web-based, very easy to use and the basic features are free.
Edit page