What is grey literature?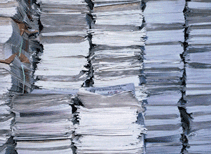 'Grey literature stands for manifold document types produced on all levels of government, academia, business and industry in print and electronic formats that are protected by intellectual property rights, of sufficient quality to be collected and preserved by library holdings or institutional repositories, but not controlled by commercial publishers i.e., where publishing is not the primary activity of the producing body.'
(Schöpfel, 2010)

Grey literature includes:
reports (government and non-government)

organisation websites or publications from organisations - including brochures, leaflets, fact sheets & bulletins
policy documents, working papers, technical reports
patents
theses & dissertations
conference proceedings
clinical trials
surveys, interviews & personal communications
census & other data & statistics sources
respositories & digital libraries eg e-print or pre-prints of articles, theses, research reports
blogs, podcasts & video
social media networks (Twitter, wikis etc).
To evaluate grey literature use the AACODS checklist.
Sources for grey literature:
Canadian Agency for Drugs and Technologies in Health (CADTH)
See also:
Systematic reviews and grey literature:
Mahood Q, Eerd DV, Irvin E. Searching for grey literature for systematic reviews: challenges and benefits. Research Synthesis Methods. 2014;5(3):221-34.
| | |
| --- | --- |
| | You might prefer to watch a video from the Harvey Cushing/John Hay Whitney Medlical Library, Yale University on grey literature |
Schöpfel, J. (2010. Towards a Prague definition of grey literature. Paper presented at the Twelfth International Conference on Grey Literature: Transparency in Grey Literature. Grey Tech Approaches to High Tech Issues, Prague, 6-7 December 2010. Retrieved from http://archivesic.ccsd.cnrs.fr/sic_00581570
Edit page