POLITICS 345


Political Marketing

POLITICS 345


Political Marketing
About www.political-marketing.org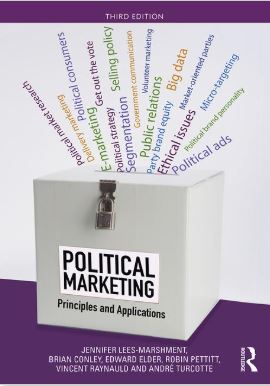 Political marketing is attracting increasing interest and utility in public and media discussion. This online resource in political marketing is designed to collate a list of resources for scholars, students and practitioners interested in learning about political marketing. It attracts an increasing number of visitors from round the world.
This website has been developed by Dr Jennifer Lees-Marshment building on resources gathered for teaching, research and completing the political marketing textbook Political marketing: principles and applications (now in its' 3rd edition). The site has a list of literature, audio-visual clips, websites and teaching resources including course outlines. If you have any suggestions for additions please fill in the suggestion box or email them to j.lees-marshment@auckland.ac.nz.
Why teach and study political marketing?
Political marketing is a fundamental part of political life. Presidents and Prime Ministers; politicians and parties; government departments and councils all use marketing in their pursuit of political goals. Market research is used to understand what the people they serve want and need when deciding on policies and service design; voter profiling helps create new segments to target; strategy guides creation of the political brand to develop an attractive vision; internal marketing guides the provision of volunteer involvement; analytics and experimental research tests and refines communication messages and delivery management sets expectations and helps to convey progress once a politician is elected or a programme begun.
Teaching political marketing enhances student employability by gaining knowledge of an area where there are a range of jobs in government and political organisations
Political marketing has a direct career link; students can take the things they study and put them into practice.
It increases intellectual agility as students get to understand how marketing may be used within the political environment, but also appreciate the differences between marketing business and marketing politics; and reflect on the ethical issues arising from marketing politics
Political marketing students acquire a deeper, more critical and reflective insight into marketing and politics generally
Edit page