Kuboniwa M, Hasegawa Y, Mao S, Shizukuishi S, Amano A, Lamont RJ, et al. P. gingivalis accelerates gingival epithelial cell progression through the cell cycle. Microbes Infect. 2008;10(2):122-8.
Like Scopus, Web of Science is particularly good for pearl growing, its design also making it easy to search both forward (for citing articles) and backward (for references) from a single paper.
Search for the article in title

Click on the article title in the results list to see the complete record screen.
The complete record screen includes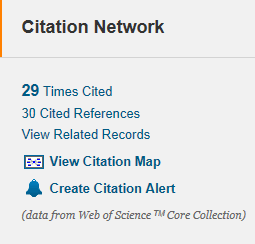 Times Cited - The number of other records in Web of Knowledge that include a reference to the starting paper.
Related Records based on shared references. For each reference, the number of citing papers is shown.
Cited References ie the reference list in the Kuboniwa paper.
Author names - Clicking on a name finds all of the papers in the Web of Science database known to be by that author.
Watch this video on pearl growing using Web of Science.
Edit page