POLITICS 345


Political Marketing

POLITICS 345


Political Marketing
Textbooks in Political Marketing

There are two editions of a textbook in Political Marketing: Political Marketing: principles and applications 2nd edition published by Routledge in 2014; see http://www.routledge.com/books/details/9780415632072/ and Political Marketing: principles and applications 1st edition published by Routledge in 2009.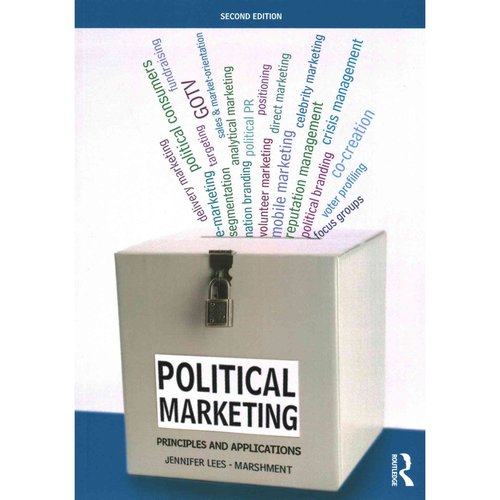 Political Marketing: principles and applications 2nd edition is a substantially revised version of the first textbook in the field. The book introduces students to how candidates, parties, elected officials and governments around the world utilise marketing concepts and tools to win elections and remain in office. It seeks to explain what political marketing is, show how it is used in practice, and encourage reflection on how it should be used in future. Being research-led, 2/3s of the text has been re-written in the 2nd edition to integrate new research published 2009-mid 2013, and reflect the more relational long-term approach to political marketing that we have seen emerging in practice and research. Drawing on the latest theoretical work and providing the broadest collation of international political marketing research available, this text:
Digests and explains academic theory but also illustrates them with examples from around the world
Provides new peer-reviewed, carefully selected Case Studies and expanded Practitioner Perspectives
Lists expanded and updated discussion points for tutors to use, and both applied and traditional assessment questions
New for the 2nd edition, it:
Dedicates a whole chapter to political branding and delivery marketing
Expands discussion of political PR and adds material on new areas such as crisis management and creating volunteer-friendly organisations
Covers new research on emerging practice such as interactive and responsive leadership communication, mobile marketing, co-creation market research, experimental and analytic marketing, celebrity marketing and integrated marketing communications
Integrates examples of every aspect of marketing within a government context into every chapter
Includes more examples of political marketing at lower levels of government including mayors and state/local candidates; and marketing by minor parties and minority governments
Focuses discussion on democracy in the end chapter through an in-depth exploration of the implications of political marketing for leadership, citizenship, participation, representation, policy and ethics
features Practitioner Profiles and Best Practice Guides for practitioners and students wishing to practice political marketing, along with Authors Corners where scholars summarise their books
Marketing students also might like to consult the book Political Marketing: Theory and Concepts by Robert P Ormrod, Stephan C. M. Henneberg and Nicholas O'Shaughnessy published in 2013 by SAGE.
Edit page