CourseBuilder Support


www.coursebuilder.auckland.ac.nz

CourseBuilder Support


www.coursebuilder.auckland.ac.nz
CourseBuilder elements
CourseBuilder contains a broad selection of content templates (elements) for you to add content to your course. Click these links for details:
Customise your element selection list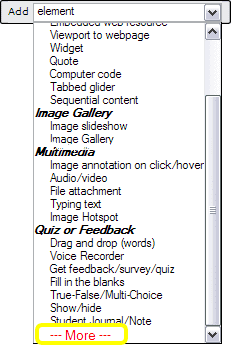 Elements are added to a page using the element selection list.
Select --- More --- to view all available elements. You may also tailor the list to include only the elements you use often.
Edit page